A few weeks ago I signed up for a Valentine's Day Swap hosted by several lovely ladies & their blogs.
Tara from
Fabulous but Evil,
Celia from
... just trying to find my way
, and Meg from
O. is Me
hosted a fabulous blogger swap, I was so thrilled to be apart of it.
I was paired with the fabulous Miranda from
Aimless Translation
. Miranda did a great job & I loved everything I received! Miranda sent me a beautiful set of note cards, a great journal (empty journals excite me...is that strange?), Jelly Bellys (yum!), nail polish, festive socks and Lindor truffles. Can I tell you a secret? I ate the Lindor truffles before I could take the pictures. Ok that was embarrassing, thanks for keeping my secret!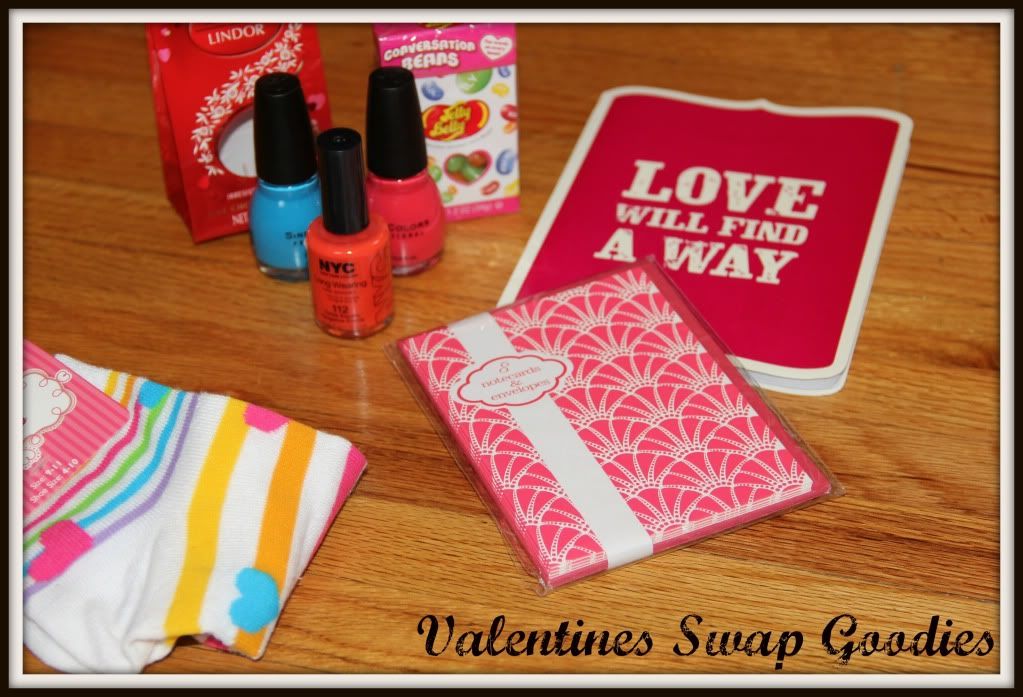 Look at the pretty polishes I got! I am so excited to paint my fingers & toes with these colors! The colors are perfect for summer and great to remind a girl what summer is during cold Minnesota winters!
I am so excited for Valentines Day tomorrow & so thrilled with the great Valentines Day goodies I got from Miranda. Head on over to Miranda's blog
Aimless Translation
so see what I gifted her and give her some love!
Thanks again Tara, Celia & Meg for the great Valentines Day swap and thanks Miranda for my goodies!